Black Dog Outdoors is managed by a small team of volunteers. We all share similar interests, which include climbing, walking, paddle sports, biking, and the outdoors in general. We're also extremely passionate about the promotion of outdoor exercise to improve mental health and wellbeing.
We have a wealth of experience between us, which covers a wide range of outdoor disciplines, and we're here to help. If you need any advice on how to get started outdoors, what equipment to buy, or you need pointing in the right direction, then please drop us a line via e-mail or our social media networks.  We look forward to hearing from you!
MEET THE TEAM
Andrew Higson – Director (and Event Leader)
I'm a keen mountaineer and climber with experience of UK mountaineering in all seasons, as well as expeditions to climb in the Swiss, Italian and French Alps, and to the summit of Mount Elbrus.  I'm a qualified Mountain Leader and I am a member of the Mountain Training Association, Mountaineering Scotland, and the British Mountaineering Council.
I'm also a qualified Mental Health First Aider and passionate about promoting the benefits of outdoor activities and a reconnection with nature.
John Gale – Operations Manager (and Event Support)
I am a keen rock climber. After discovering my passion for the sport 6 years ago, whilst trying out a local climbing wall, I have since attended various training schemes and am currently working towards the Rock Climbing Instructor award through Mountain Training. I've been fortunate enough to enjoy climbing across the UK, Spain, France, Italy and Corsica.
I have a background in local youth and community projects including youth festivals and fundraising for local sport facilities.  After recently returning from 6 months climbing in Spain and being forced to take several months out with a degenerative back problem, I am keen to help bring other people into the world of Outdoor Adventure and all of the benefits that it brings.
Meg Iley – Event Leader
I really like playing outside. I'm a qualified Mountain Leader and Rock Climbing Instructor with experience of mountaineering in the Alps.  I recently moved to North Wales, with the long-term goal of working towards my Mountaineering and Climbing Instructor award. Here I also dabble in wild swimming, paddling and running. One time, I even rode a bike.
I currently work in a crisis response home, providing outdoor activity-based placements for young people in care. I love my job, and believe that the outdoors is an incredible environment for developing confidence and self-esteem, as well as having real therapeutic benefits; however I will soon be heading to Iceland for work and to experience that incredible place.
Scott Robertson – Event Leader
I have been been riding bikes in the hills for as long as I can remember, and that freedom and escapism is what drives most of my adventures, whether that is on a road bike, mountain bike, or with a set of mountaineering boots on.
I am a qualified Mountain Leader, Mountain Bike Instructor, Rock Climbing Instructor, climbing coach, and I am working towards becoming a Mental Health First Aider.  I like nothing more than enthusing about why I do this to anyone who will listen.
I am also proof you can combine the stresses of an office job alongside a career in the outdoors.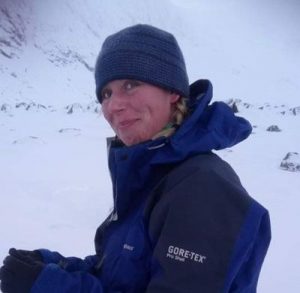 Felicity Kettle – Event Leader
I'm a qualified Mountain Leader, a member of the BMC, volunteer for the MTA, train and access Duke of Edinburgh, and am part of the Lakeland Mountain Guides team…. basically I'm totally obsessed with our mountains in the UK!
I love heading out for a family adventure day, usually in Snowdonia as we're lucky enough to have a base near Beddgelert.  We have such a beautiful country that can give us freedom, not just physically, but mentally too.  The benefits of outdoor adventures are powerful and rewarding… so time to start exploring!
Alan MacKay – Event Leader
I am a qualified Mountain Leader through Mountain Training, a member of Mountaineering Scotland, The British Mountaineering Council and the Mountain Training Association.
I tutor and assess the Lowland Leader Award and can also be found leading groups on Ben Nevis.  Being in the hills is very important to me and I know how positively this can impact on mental health.  I enjoy sharing my love of the hills, especially with newcomers, and look forward to sharing this passion with others.
Ian Holden – Event Support
I had an 'Epiphany' in 2017. Following a bout of insomnia I decided at 0500 one morning that I was going to climb Kilimanjaro.  Knowing I was totally unprepared I asked Andy Higson to help me by accompanying me up Snowdon.  The experience in 50mph winds and horizontal rain should have put me off for life; however it has had the opposite effect and I now try to get in a hill at least once a month.  My health and well being has vastly improved.  I've lost over two stone in weight and I'm now even planning to run my first ever half marathon shortly before my 50th Birthday.  I can't sell the benefits of being outdoors enough.
I've recently qualified as a Mental Health First Aider at work and actively promote Outdoors as a therapy.  Kilimanjaro will become a reality in Oct 2019 – 'Climbing Mountains not Making them'.  I'm also working towards my Mountain Leader award through Mountain Training.
Adam Thistlethwaite – Event Support
I have been in love with the outdoors since childhood starting with hill walks in the Dales with my father to now working towards the Mountain Leader award through Mountain Training.
I am an experienced mountaineer, finding my biggest pleasure and challenge from Scottish winter routes and long mountain days in the Lake District and North Wales.  I have experience of Alpine and Icelandic glacial walking and cross-country skiing, as well as mountaineering in the Alps.
Ceira Maclachlan – Event Support
Having grown up living on the fringes of the Lake district I have always enjoyed getting out and about in the Lakes as well as enjoying the great outdoors further afield, such as North Wales and Scotland.  Usually you'll find me out and about accompanied by my four legged wingman.  For me nothing beats the feeling of achievement and being on top of the world once you've hiked to the top of a fell or mountain.
I love taking photos of where I've been on my adventures as well, making memories and capturing the good times in life is important to me. I am also extremely passionate about promoting the benefits of spending time outside and the positive effects this can have on improving your mental and physical health. Having been diagnosed with Generalised Anxiety Disorder and Depression myself 4 years ago, I came to realise the importance of spending time outside and how this has made a huge difference to my life and how it can for other's too.
Stacey Roberts – Event Support
I love the outdoors, whether that's walking the fells, climbing or being in a kayak on a lake.  Living on the edge of the Lake District I try and make the most of it and I'm currently ticking off the Wainwrights. This is also helping me train for a trip to climb Kilimanjaro later in 2019.
Im a strong believer that the outdoors is great for our physical and mental health and I want to help people have the confidence to get out and enjoy the beauty we have around us.  I'm also a qualified Mental Health First Aider.
Adam Vaughan – Photographer
I started rock climbing in Liverpool about 6 years ago and very quickly became obsessed, progressing from indoor bouldering to the crags of Cheshire, Lancashire and North Wales. I now live and work in West Yorkshire where I'm lucky enough to have to whole of the Peak District on my doorstep for rock climbing, hiking and wild swimming. One day someone might even drag me up a mountain…
My background is in press and commercial photography but I now spend most of my time installing massive artworks outdoors.