Andrew Higson – Director
Andy heads up our organisation and is a keen mountaineer and climber with experience of UK mountaineering in all seasons, as well as expeditions to climb in the Swiss, Italian and French Alps, and to the summit of Mount Elbrus.  He is a qualified Mountain Leader, Climbing Wall Instructor, NNAS Navigation Tutor, and member of the Mountain Training Association, Mountaineering Scotland, and the British Mountaineering Council.
Being in the outdoors helps Andy to find balance in a fast-paced, often stressful, life.  He is a qualified Mental Health First Aider and is passionate about promoting the benefits of outdoor activities and a reconnection with nature to others. 
Scott Robertson – Trustee
Scott has been riding bikes in the hills for as long as he can remember, and that freedom and escapism is what drives most of his adventures, whether that is on a road bike, mountain bike, or with a set of mountaineering boots on.
Scott is a qualified Mountain Leader, Mountain Bike Instructor, Rock Climbing Instructor, climbing coach, and is working towards becoming a Mental Health First Aider.  He likes nothing more than enthusing about why he does this to anyone who will listen.
Scott is also proof you can combine the stresses of an office job alongside a career in the outdoors.
Lynn Robinson – Trustee
Lynn joined us as a charity trustee in 2022 after various voluntary roles within the British Mountaineering Council, including her being appointed as their first female president.  Lynn's professional background is in Mental Health with the NHS, and she knows first hand the positive benefits of spending time in nature.
Nicola Cannon – Trustee

Nicola, a lawyer with British Telecom, joined us as a trustee.  Nicola is passionate about spending time outdoors and, with the experience of her day job, will help to ensure that we remain sustainable as a charity for the long-term.
Adam Thistlethwaite – Trustee
Adam has been in love with the outdoors since childhood starting with hill walks in the Dales with his father to now working towards the Mountain Leader award through Mountain Training.  Adam is a qualified Mental Health First Aider and enjoys supporting our events.
He is an experienced mountaineer, finding his biggest pleasure and challenge from Scottish winter routes and long mountain days in the Lake District and North Wales.  He has experience of Alpine and Icelandic glacial walking and cross-country skiing, as well as mountaineering in the Alps.
John Gale – Business Development Manager & Climbing Officer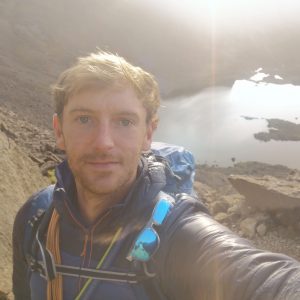 John is our Business Development Manager, Climbing Officer and a keen rock climber. After discovering his passion for the sport 6 years ago, whilst trying out a local climbing wall, he has since attended various training schemes and is currently working towards the Rock Climbing Instructor award through Mountain Training. He's been fortunate enough to enjoy climbing across the UK, Spain, France, Italy and Corsica.
John has a background in local youth and community projects including youth festivals and fundraising for local sport facilities.  After recently returning from 6 months climbing in Spain, and being forced to take several months out with a degenerative back problem, he is keen to help bring other people into the world of Outdoor Adventure and all of the benefits that it brings.
Ian Holden – Operations Manager
Ian is our Operations Manager and is supported in this role by other members of the team.  He's also our resident videographer and enjoys capturing the essence of our work, which many of you will have seen on our social media channels.
In 2017, Ian decided that he was going to climb Kilimanjaro.  Knowing he was totally unprepared he asked Andy Higson to help him by accompanying him up Snowdon.  The experience in 50mph winds and horizontal rain should have put him off for life; however it had the opposite effect and he now tries to get in a hill at least once a month.  Ian's health and well being has vastly improved.  He's lost over two stone in weight and he ran his first ever half marathon shortly before hid 50th Birthday.  He can't sell the benefits of being outdoors enough – he's a real champion!
Ian is a qualified Mental Health First Aider and actively promotes the outdoors as a form of therapy.  Kilimanjaro became a reality in Oct 2019 – 'Climbing Mountains not Making them'.  In 2021 Ian qualified as a Mountain Leader through Mountain Training.
Felicity Turner – Hill Walking & Skills Officer (England & Wales)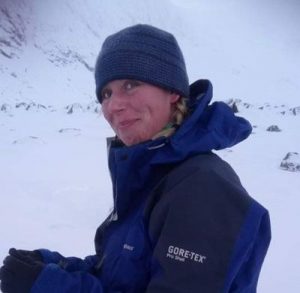 Felicity (Fliss) has overall responsibility for planning and coordinating our hill walking and hill skills events in England and Wales.  Fliss is a qualified Mountain Leader, a member of the BMC, volunteer for the MTA, she trains and assesses Duke of Edinburgh, and is part of the Lakeland Mountain Guides team…. basically she's totally obsessed with our mountains in the UK.  Fliss is also a qualified Mental Health First Aider.
Fliss loves heading out for a family adventure day, usually in Snowdonia as she's lucky enough to have a base near Beddgelert.  She loves that our beautiful countryside can give us freedom, not just physically, but mentally too.
Alan MacKay – Hill Walking & Skills Officer (Scotland)
Al has overall responsibility for planning and coordinating our hill walking and hill skills events in Scotland.  Al is a qualified Mountain Leader through Mountain Training, a member of Mountaineering Scotland, The British Mountaineering Council and the Mountain Training Association.
He tutors and assesses the Lowland Leader Award and can also be found leading groups on Ben Nevis.  Being in the hills is very important to Al and he knows how positively this can impact on mental health.  He enjoys sharing his love of the hills, especially with newcomers, and looks forward to sharing this passion with others.
Holly Peristiani – Event Leader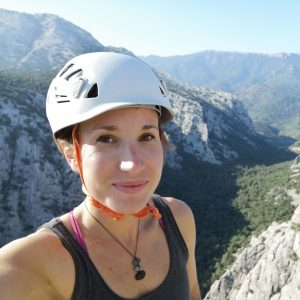 Holly is a qualified Rock Climbing Instructor and full member of the Mountain Training Association. She found climbing in her mid-30s and immediately recognised the mental health benefits it provides. She enjoys all forms of climbing, although trad is probably her favourite: not much beats topping out on a sunny day in the Peak District!
Holly has worked with a wide range of people both indoors and outdoors, has training in working with visually impaired people, and is a qualified Mental Health First Aider.
Jazz Browne – Event Leader
Jazz has followed in the family footsteps and is a fully qualified British Canoeing coach, running kayak and paddleboard sessions around the country. His mum, Lynne, is our Paddlesport Officer, so it was always going to be a good career choice for him.
Jazz's worst nightmare would be sitting behind a desk and being stuck inside, just a cog in a machine and not making a difference to anyone's life. He would much rather be on the water, amongst nature. Listening to the wildlife, exploring the rivers and lakes, and meeting new people. He believes passionately that we can all give our time to help those in need and he loves nothing more than getting off the water knowing he has made a difference, however small, to improve someone's mental health.
When he is off the water, Jazz loves hitting the trails on his Mountain Bike or training at the boxing gym. Jazz has two young daughters one of which loves being out on the water with her Dad.
Dan Thistlethwaite – Event Leader
Dan is one of our fantastic event leaders, with professional qualifications in hill-walking, paddling and climbing.  Although based in Yorkshire, Dan has vast experience of leading events, and training providers, at home and overseas.  Dan was a glacier guide in Iceland for 21 months and, as well as that, has worked for outdoor providers in the UAE and Thailand.
Dan is a member of the British Mountaineering Council, Mountain Training Association, and is a proficient mountaineer and climber.  He has climbed extensively throughout the UK, as well as in the French Alps, Polish Tatras, and to the summit of Gran Paradiso in Italy.

He is a qualified Mental Health First Aider, and has been leading on Blackdog Outdoors events since May 2021.  Dan has a love of the outdoors and is enthusiastic about encouraging others to spend more time in our green spaces.
Ainsley Martin – Event Leader
Ainsley is a qualified Mountain Leader through Mountain Training, a member of Mountaineering Scotland and the Mountain Training Association. She started exploring the outdoors when she joined her local Scout group and has loved hiking and camping since. She has explored extensively in her native Scotland, in Switzerland and New Zealand.
Being outdoors and active is important to Ainsley. She is a keen hiker, trail runner, climber and wild swimmer, and enjoys sharing this time outdoors with others.
Nathan Grant – Event Leader
Nathan is a qualified Mountain Leader, with a background in delivering a range of center based activities to both adults and children. He is also a qualified and experienced Mental Health First Aider.
Like many, Nathan gained the mountain walking 'bug' at an early age, on family holidays to the Lake District. Living with the Peak District on his doorstep, Nathan can often be found with a smile on his face, walking, climbing or running in all weathers and usually in the company of his dog Ruby. He enjoys sharing this love for the outdoors and encouraging others to get out.
Kelly Duffy – Event Leader
Kelly has been an avid outdoor enthusiast for over 15 years. Her passion started in Spain where she discovered the great outdoors with her best dog buddy and soon found that the mountains were accessible for everyone! They joined a walking group and soon enough we were tackling the highest summits in the Sierra de Tejedas.
Kelly now lives and works in the beautiful Snowdonia national park in North Wales and is a keen walker, climber, and explorer too. She tried rock climbing many years ago and is now a qualified Rock Climbing Instructor after lots of hard work and self-belief, as well as being a qualified Summer Mountain Leader and Climbing Wall Development Instructor.
Kelly is  passionate about helping people achieve new skills and experiences in the outdoors. She is proud to have worked with all kinds of people with different abilities and backgrounds, Blind veterans UK and those with limb differences. There is a climber in everyone!
Leigh Kember – Event Leader
Some of Leigh's earliest memories of the mountains are skiing with his family as a kid, and this love for the mountains grew whilst serving in the British army skiing in the alps and Canadian rockies.  After leaving the army in 2015 he continued to challenge himself running marathons and started working towards his Mountain Leader qualification.
Leigh overcame some obstacles from a challenging year in 2019 and has since gained his Mountain Leader Qualification, as well as other outdoor qualifications in white water safety and rescue, Climbing wall instructor training & Mental health first aid.
Leigh has recently moved to the Peak District so he can spend more time enjoying the outdoors, and aims to use the outdoors to improve not only his own health but also to inspire others to do the same.
Steve Bower – Event Leader
Steve found his love for the outdoors as a member of the military, as a reservist with the Army, and a regular in the Royal Marines Commando's.  Upon discharge he worked in the private security industry for several years before becoming an outdoor pursuit instructor and then a qualified therapist in a local authority mental health team.  With mountaineering and climbing experience throughout Europe Steve finds spending time in the outdoors helps with his own experiences of PTSD and depression and his work with people in the outdoors often entails him working collaboratively to facilitate change and achieve goals.
Steve is a registered and qualified Social Worker, A Rock Climbing Instructor, Mountain Leader and a NNAS Navigation Tutor.  He holds certificates in Mountain first aid and mental health first aid which are augmented by his involvement with the local Mountain Rescue Team.  He is a scout skills instructor in mountaineering and climbing, Snowdonia ambassador and a member of the BMC and MTA.
Anna Buckingham – Event Leader
Anna is a super keen mountain and fell runner and has raced some of the most iconic races in Europe. Based in North Wales she works as an Accountant, freelance Mountain Leader and Run Guide. She is a Mountain Leader, Mental Health First Aider and a listening volunteer with the Samaritans.
She is usually joined her very own Blackdog side kick, Diego – a very vocal but friendly New Zealand Huntaway.
Richard Birnie – Event Leader
Richard became a Mountain Leader and a member of both the Mountain Training Association and the BMC after toying with the idea for far too many years. He grew up tramping around the hills and moors of his native Northumberland which developed into a passion for walking and climbing in the Lake District, North Wales and Scotland.
Richard goes to the mountains to escape the hustle and bustle of modern life. Whenever he can get away you'll find him climbing up a crag or wandering up a hill. Although he's not averse to a bit of type 2 fun, he firmly believes that it's not necessary for every trip to be the fastest, highest, longest, hardest day ever. Those days are fun but he prefers to slow down sometimes, be a bit more present and really experience places. He became a leader because he loves to share that feeling.
Ric Outhwaite – Event Leader
Ric has lived in Cumbria for some 30 years having previously lived in North Yorkshire.  He is a long standing member of the British Mountaineering Council, was an active volunteer with mountain rescue for around 25 years (many of them as a mountain rescue search dog handler), and qualified as a mountain leader in 2005.
Ric has worked in the mountains all over the UK and also in Norway and Iceland.  He has led walks in the mountains for many years and enjoys being out walking with groups, making new friends and sharing new experiences.  You'll often find Ric in the hills with his Collie, Jess.
Richard Moses – Event Leader
After leaving the military, following 14 years' service, Richard was fortunate to work in business alongside great mentors.  During this 20-year period, Richard was heavily involved in building and selling a number of businesses, scaling each from start-up to £100m+ turnover and healthy seven figure EBIT performance.
Throughout this time, he was never far away from adventure and took time to qualify as a British Canoeing Level 3 Coach, Leader and Accredited Guide as well as formalising experience in bushcraft and expedition medicine.
The journey from boardroom to adventure guide continues but the decision to swap his three-piece suit for a dry suit appears to have been the right one!
Iain Cruwys – Event Leader
Iain's love of the outdoors started out digging holes and playing "52 Bunker" in the allotments of South London, and has slowly progressed to him becoming a qualified Mountain Leader.   He also holds Mental Health and Outdoor First Aid qualifications.
Membership of Mountaineering Scotland, the John Muir Trust, and Upperward Mountaineering Club reflect his passion for the Scottish landscape.
Iain feels that supporting Blackdog Outdoors is a great way to share his enthusiasm for getting outside and the benefits to our physical and mental wellbeing that this brings.
Zoe Patchett – Operations Support
Zoe has recently joined the team in an Operational Support role.  Her earliest foray into hill-walking was a steady bimble up the Tatras in 2015.  Zoe reconnected with walking in September 2020 as a means of finding balance during the COVID pandemic, and undertook the epic Coast to Coast walk on her own in 2021.
Zoe has also found the confidence to take up climbing and bouldering, and is a real ambassador for our work here at Blackdog Outdoors.  Zoe is looking forward to meeting attendees at future events to help encourage and inspire.
Symi Fuchs – Yoga Instructor / Mental Health & Event Support
Symi's had a call to the wild all her life. The outdoors has always been a great healing place for her. Nature lifts her spirit. From forest bathing to getting some scramble-time on big rugged landscapes, she knows there is something so magical about being active outdoors – rain, shine or snow!
Symi is a certified Forrest Yoga teacher, and loves it. Yoga is her daily medicine. She's also a life experimenter and deep emotional diver who is inconsistently brave and riddled with fears, doubts and other flaws. She's lived through a catalogue of life experiences which led her to finding yoga. In her 30s, she ditched her career and flew to San Francisco to do her teacher training. And she's never looked back. Since Symi started yoga, what she wants out of life has become so much clearer, and she's enjoying not overthinking or complicating things – just going with the flow a little more.
Symi is also a certified MHFA and is an advocate for mental health awareness. She's witnessed, and felt, how yoga can play a huge role in improving mental health and is passionate about supporting people with the tools of yoga, meditation and the amazing outdoors.
Stacey Roberts – Mental Health & Event Support
Stacey is part of our mental health focus group and a qualified Mental Health First Aider,  with the ASIST qualification.  Stacey loves the outdoors, whether that's walking the fells, climbing or being in a kayak on a lake.  Living on the edge of the Lake District she tries to make the most of it and is currently ticking off the Wainwrights. This also helped her train for a trip to climb Kilimanjaro later in 2019 with Ian Holden.
Stacey is a strong believer that the outdoors is great for our physical and mental health and she wants to help people have the confidence to get out and enjoy the beauty we have around us.
Cath Melvin – Mental Health & Event Support
Cath is part of our mental health focus group and a qualified Mental Health First Aider, with the ASIST qualification.  Cath was lucky enough to be born in the beautiful county of Cumbria and a love of the outdoors has always been in her blood.  There's nothing like a yomp in mother nature to bring you back to the ground when the ups and downs of life get a bit heavy.  Whether that's the hills, lakes or coastline, she loves them all.
Cath works as a wellbeing Coordinator and is extremely passionate about improving her own and others' mental and physical health and know first hand the benefits that outdoor activity can bring.
Melanie Temple – Mental Health & Event Support
Melanie is part of our mental health focus group and a qualified Mental Health First Aider.
Growing up in the Lake District she spent much of her youth pottering in the outdoors with her father where she developed an interest in the natural world.
After studying ecology in Cornwall and working in Norfolk, it wasn't until she returned home that she developed an interest in the outdoors and really appreciated the area in which she grew up.
Melanie is interested in fell walking, climbing and mountain biking, although the term 'mountain' should really be altered to 'nice path' and 'forestry track' biking.
Whilst enjoying many sports, including golf (don't hold it against her,) she fully believes that any activity in the outdoors, or physical exercise, can improve a persons' health, both physically, mentally and socially.
Caroline Waters – Mental Health & Event Support
Being raised mostly raised in Cumbria it's easy to see where Caroline's love, knowledge and understanding of the benefits of the great outdoors comes from. Be that muddied up on a bike, out in boots up a fell, or paddling along a river. Outdoors is where the head feels best.
Currently collecting navigation skills, in addition to being a First Aider and Mental Health aware through personal and familial experience. Caroline enjoys meeting people and hearing tall tales and short stories along the way.
Her day job is involved in turning the tide on climate change, energy saving, nature restoration and providing opportunities for people engage with nature on their doorstep. Building on an earlier experience in construction, design, dementia care and communication.
Alex Jones – Mental Health & Event Support
Alex is a keen supporter of our events.  The hills and mountains are special places to him, they feel like a space where he can truly cast off the expectations of modern life and learn and grow as we would in our natural environment.
His mid 20's brought a difficult few years and he learned a lot about himself in that time.  When his employer offered the chance of training as a MHFA he was one of the first on the list as he wanted the chance to return the favours so many have done for him.
Alex is a Mental Health First Aider and also working towards the Mountain Leader Award but, unfortunately, its taking forever as he keeps finding new adventures to distract him.
Rachel Johnson – Mental Health & Event Support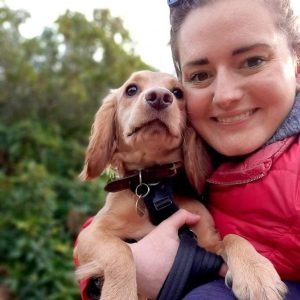 For as long as she can remember, Rachel has always been an outdoorsy person. Her absolute passion is the snow, learning to ski from an early age meant frequent trips to the Alps and up North to the rugged mountains of Scotland – if you can ski in Scotland, you can ski anywhere!
Rachel's parents always took her on camping and walking holidays, inspiring her love of all things nature! Now, she loves everything from the sea to the mountains and everything in between, often with a 4 legged friend in tow!
Already having experience with mental health and first aid it seemed natural that Rachel progressed and undertook the Mental Health First Aid course to help and support on blackdog events!
Naomi Scott – Mental Health & Event Support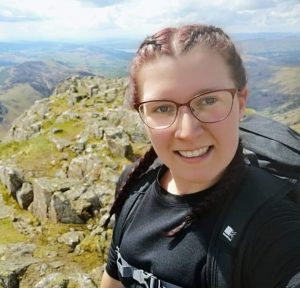 Naomi is part of our mental health focus group and also supports on our events.  When she was little she was always outside climbing trees and out with friends. As she grew up, and 'real life' stresses kicked in, she found herself bogged down with work, in a job she no longer enjoyed, feeling more and more down.
Naomi remembered her childhood and the enjoyment of being outside and took it upon herself with a friend to step out of her comfort zone and walk up Snowdon.  Being Wales it was wetter than wet and, stangely enough, she thoroughly enjoyed herself.  She hasn't stopped since.
Naomi loves taking photos of the places she has been to capture the beauty of the great outdoors. Whether that be right on her doorstep or further afield.  She feel that the benefits of getting outside and the impact it has on mental health and wellbeing, has been recognised and it's a great way of letting go of all the stresses and worries that come with daily life.