Black Dog Outdoors is managed by a small team of volunteers. We all share similar interests, which include climbing, walking, paddle sports, biking, and the outdoors in general. We're also extremely passionate about the promotion of outdoor exercise to improve mental health and wellbeing.
We have a wealth of experience between us, which covers a wide range of outdoor disciplines, and we're here to help. If you need any advice on how to get started outdoors, what equipment to buy, or you need pointing in the right direction, then please drop us a line via e-mail or our social media networks.  We look forward to hearing from you!
MEET THE TEAM
Andrew Higson – Director
Andy heads up our organisation and is a keen mountaineer and climber with experience of UK mountaineering in all seasons, as well as expeditions to climb in the Swiss, Italian and French Alps, and to the summit of Mount Elbrus.  He is a qualified Mountain Leader, NNAS Navigation Tutor, and member of the Mountain Training Association, Mountaineering Scotland, and the British Mountaineering Council.
Being in the outdoors helps Andy to find balance in a fast-paced, often stressful, life.  He is a qualified Mental Health First Aider and is passionate about promoting the benefits of outdoor activities and a reconnection with nature to others. 
John Gale – Operations Manager
John is our Operations Manager and a keen rock climber. After discovering his passion for the sport 6 years ago, whilst trying out a local climbing wall, he has since attended various training schemes and is currently working towards the Rock Climbing Instructor award through Mountain Training. He's been fortunate enough to enjoy climbing across the UK, Spain, France, Italy and Corsica.
John has a background in local youth and community projects including youth festivals and fundraising for local sport facilities.  After recently returning from 6 months climbing in Spain, and being forced to take several months out with a degenerative back problem, he is keen to help bring other people into the world of Outdoor Adventure and all of the benefits that it brings.
Scott Robertson – Compliance Manager
Scott, as our compliance manager, is the one that keeps us all in check.  He has been riding bikes in the hills for as long as he can remember, and that freedom and escapism is what drives most of his adventures, whether that is on a road bike, mountain bike, or with a set of mountaineering boots on.
Scott is a qualified Mountain Leader, Mountain Bike Instructor, Rock Climbing Instructor, climbing coach, and is working towards becoming a Mental Health First Aider.  He likes nothing more than enthusing about why he does this to anyone who will listen.
Scott is also proof you can combine the stresses of an office job alongside a career in the outdoors.
Ian Holden – Fundraising Manager & Videographer
Ian is our Fundraising Manager and is supported in this role by other members of the team.  He's also our resident videographer and enjoys capturing the essence of our work, which many of you will have seen on our social media channels.
In 2017, Ian decided that he was going to climb Kilimanjaro.  Knowing he was totally unprepared he asked Andy Higson to help him by accompanying him up Snowdon.  The experience in 50mph winds and horizontal rain should have put him off for life; however it had the opposite effect and he now tries to get in a hill at least once a month.  Ian's health and well being has vastly improved.  He's lost over two stone in weight and he ran his first ever half marathon shortly before hid 50th Birthday.  He can't sell the benefits of being outdoors enough – he's a real champion!
Ian is a qualified Mental Health First Aider and actively promotes the outdoors as a form of therapy.  Kilimanjaro became a reality in Oct 2019 – 'Climbing Mountains not Making them'.  Ian is also working towards a Mountain Leader award through Mountain Training.
Adam Thistlethwaite – Treasurer
Adam has the unenviable task of being our Treasurer.  He has been in love with the outdoors since childhood starting with hill walks in the Dales with his father to now working towards the Mountain Leader award through Mountain Training.
He is an experienced mountaineer, finding his biggest pleasure and challenge from Scottish winter routes and long mountain days in the Lake District and North Wales.  He has experience of Alpine and Icelandic glacial walking and cross-country skiing, as well as mountaineering in the Alps.
Lynne-Marie Dale – Paddlesport Officer
As our Paddlesport Officer, Lynne is the one that can always be found on or in the water!
The idea of sitting in a kayak or Canoe, on rivers, lakes or canals and just enjoying the blue space around us is something Lynne feels very passionate about.  She is a British Canoeing qualified Paddlesport Coach based in Yorkshire, a REC level 3 First Aider and Mental Health First Aider.  Lynne also runs Yorkshire Sea Kayakers, travelling around the country to explore the coastline that surrounds this beautiful island we live on.  In 2020, Lynne's efforts were recognised by British Canoeing, and she received a well deserved 'Coach of the Year Award' for engagement.
Lynne spends all her spare time paddling or coaching on our rivers, canals, lakes and coasts, and she loves introducing people to paddlesport, supporting those initial tentative paddle strokes then seeing the relaxation wash over us as we pootle along and chat while looking out for Otters and Kingfishers on the rivers or Seals and Dolphins on the Sea.
Felicity Kettle – Hill Walking & Skills Officer (England & Wales)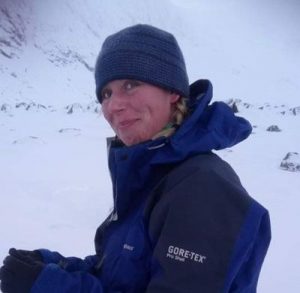 Felicity (Fliss) has overall responsibility for planning and coordinating our hill walking and hill skills events in England and Wales.  Fliss is a qualified Mountain Leader, a member of the BMC, volunteer for the MTA, she trains and assesses Duke of Edinburgh, and is part of the Lakeland Mountain Guides team…. basically she's totally obsessed with our mountains in the UK.  Fliss is also a qualified Mental Health First Aider.
Fliss loves heading out for a family adventure day, usually in Snowdonia as she's lucky enough to have a base near Beddgelert.  She loves that our beautiful countryside can give us freedom, not just physically, but mentally too.
Alan MacKay – Hill Walking & Skills Officer (Scotland West)
Al has overall responsibility for planning and coordinating our hill walking and hill skills events in Scotland.  Al is a qualified Mountain Leader through Mountain Training, a member of Mountaineering Scotland, The British Mountaineering Council and the Mountain Training Association.
He tutors and assesses the Lowland Leader Award and can also be found leading groups on Ben Nevis.  Being in the hills is very important to Al and he knows how positively this can impact on mental health.  He enjoys sharing his love of the hills, especially with newcomers, and looks forward to sharing this passion with others.
Vicky Bickerstaffe – Hill Walking & Skills Officer (Scotland East)
Vicky is hill walking & hill skills officer for Scotland (East & Central) supporting Al Mackay.  She is a keen mountaineer, trail runner and adventurer who spends much of her time in the Scottish Highlands and lowlands. She has explored and climbed throughout the UK as well as in the Alps and Himalaya.  She also enjoys open canoeing and paddle boarding and yoga.
Vicky is a qualified Mountain leader, WMT Advanced medicine trained, qualified fitness instructor, and member of the MTA and Mountaineering of Scotland.
Vicky lives with long term mental health conditions which do have limiting effects on her life, but they do not define her. She is a passionate advocate of the therapeutic effects of the outdoors on a person's mental wellbeing. As well as 20+ years of lived experience Vicky has gained several qualifications in mental health studies, mindfulness and counselling skills placing Vicky in a unique position to empathise and support others.
Louise Hall – Climbing Officer
As our Climbing Officer, Louise helps us arrange outdoor climbing events, in collaboration with Climb Alongside Mental Heath.  Having climbed for around 10 years, Louise dabbles in all forms of climbing, but can mainly be found on the boulders. She holds a Climbing Wall Instructor award, is a member of the BMC, has worked in various climbing walls, and has volunteered in various groups to help introduce people to the wonders of climbing.
With a background in Health Psychology, her day job is working as a behavioural scientist, researching ways to improve people's health through engaging in healthy lifestyle behaviours. For her, outdoor recreation is a fun and thrilling way to improve both physical and mental health. She hopes you'll join us on future events and see this for yourselves!
Ceira Maclachlan – Mental Health & Event Support
Ceira is part of our mental health focus group and a qualified Mental Health First Aider.  Having grown up living on the fringes of the Lake district she has always enjoyed getting out and about in the Lakes as well as enjoying the great outdoors further afield, such as North Wales and Scotland.  Usually you'll find her out and about accompanied by her four legged wingman.  For Ceira, nothing beats the feeling of achievement and being on top of the world once you've hiked to the top of a fell or mountain.
Ceira loves taking photos of where she's been on my adventures as well, making memories and capturing the good times in life is important to her. She is also extremely passionate about promoting the benefits of spending time outside and the positive effects this can have on improving your mental and physical health. Having been diagnosed with Generalised Anxiety Disorder and Depression herself 4 years ago, she came to realise the importance of spending time outside and how this has made a huge difference to her life and how it can for other's too.
Stacey Roberts – Mental Health & Event Support
Stacey is part of our mental health focus group and a qualified Mental Health First Aider,  with the ASIST qualification.  Stacey loves the outdoors, whether that's walking the fells, climbing or being in a kayak on a lake.  Living on the edge of the Lake District she tries to make the most of it and is currently ticking off the Wainwrights. This also helped her train for a trip to climb Kilimanjaro later in 2019 with Ian Holden.
Stacey is a strong believer that the outdoors is great for our physical and mental health and she wants to help people have the confidence to get out and enjoy the beauty we have around us.
Cath Melvin – Mental Health & Event Support
Cath is part of our mental health focus group and a qualified Mental Health First Aider, with the ASIST qualification.  Cath was lucky enough to be born in the beautiful county of Cumbria and a love of the outdoors has always been in her blood.  There's nothing like a yomp in mother nature to bring you back to the ground when the ups and downs of life get a bit heavy.  Whether that's the hills, lakes or coastline, she loves them all.
Cath works as a wellbeing Coordinator and is extremely passionate about improving her own and others' mental and physical health and know first hand the benefits that outdoor activity can bring.
Alex Jones – Fundraising, Mental Health & Event Support
Alex supports Ian Holden with fundraising and also provides support on our events.  The hills and mountains are special places to him, they feel like a space where he can truly cast off the expectations of modern life and learn and grow as we would in our natural environment.
His mid 20's brought a difficult few years and he learned a lot about himself in that time.  When his employer offered the chance of training as a MHFA he was one of the first on the list as he wanted the chance to return the favours so many have done for him.
Alex is a Mental Health First Aider and also working towards the Mountain Leader Award but, unfortunately, its taking forever as he keeps finding new adventures to distract him.
Naomi Scott – Mental Health & Event Support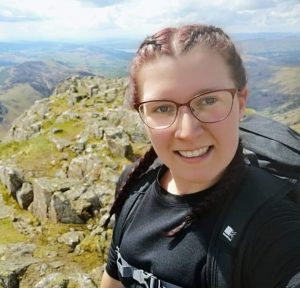 Naomi is part of our mental health focus group and also supports on our events.  When she was little she was always outside climbing trees and out with friends. As she grew up, and 'real life' stresses kicked in, she found herself bogged down with work, in a job she no longer enjoyed, feeling more and more down.
Naomi remembered her childhood and the enjoyment of being outside and took it upon herself with a friend to step out of her comfort zone and walk up Snowdon.  Being Wales it was wetter than wet and, stangely enough, she thoroughly enjoyed herself.  She hasn't stopped since.
Naomi loves taking photos of the places she has been to capture the beauty of the great outdoors. Whether that be right on her doorstep or further afield.  She feel that the benefits of getting outside and the impact it has on mental health and wellbeing, has been recognised and it's a great way of letting go of all the stresses and worries that come with daily life.
Corinna Parry – Mental Health & Event Support
Corinna is part of our mental health focus group and a qualified Mental Health First Aider, with ASIST qualification.  Having been born and bred in the heart of Snowdonia, it has only been since May 2019 that she discovered the love and passion she has for the mountains after deciding to hike up Snowdon for the second time in her lifetime. She has not looked back since that incredible moment she decided to change her life.
The new found love that Corinna has for the Mountains has certainly helped her own battles recently and helped to change and shape the direction to her life currently, the drive to keep on walking, running and wild swimming is so powerful and she is excited to share this experience with everyone.
Adam Vaughan – Photographer
Adam is our resident photographer.  He started rock climbing in Liverpool about 6 years ago and very quickly became obsessed, progressing from indoor bouldering to the crags of Cheshire, Lancashire and North Wales. He now lives and works in West Yorkshire where he's lucky enough to have the Peak District on his doorstep for rock climbing, hiking and wild swimming. One day someone might even drag him up a mountain…
Adam's background is in press and commercial photography but he now spends most of his time installing massive artworks outdoors.